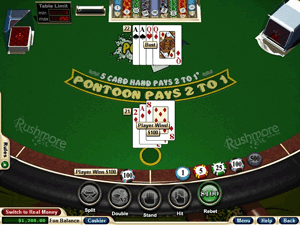 Pontoon is a form of blackjack where the player competes against the dealer. In pontoon, the game is played with either two or eight decks of cards, and the cards are valued the same as they are in blackjack. Each player receives two cards, which are face up and the dealer gets two down cards. After the cards are dealt, the dealer checks his hand. In the event he does not have pontoon, play begins. Pontoon is a hand that is valued at 21.
When play begins, each player will decide whether they wish to hit or stand. Additionally, players may double down or split. However, doubling down and splitting can be done once per hand in the game of pontoon. Paired hands may be re-split one time in pontoon. In pontoon, dealers stand when they hold a hand valued at higher than a soft seventeen. Additionally, if the dealer draws to five cards, he must also stand. Players are able to stand when their hand is valued at fifteen or higher. If the player wins, he is paid even money. If the player is dealt pontoon, draws to pontoon, or draws to a five-card hand, they are paid two to one on their bet. Ties go to the house in pontoon. This means that a player must have a hand that ranks higher than that of the dealer's without busting. Otherwise, the money goes to the house (unless the dealer busts).
When playing Pontoon, the strategy varies depending on how many cards you hold. When holding a hard hand valued between eighteen and twenty-one, a player should stand. Additionally, players holding fifteen, sixteen, or seventeen are best standing when they have two or three cards. However, if a player has seventeen and holds four cards, hitting is the correct action, while doubling down is the right move when a player holds four cards that are valued between sixteen and eight. Moreover, a player should double down if they have a hand that is valued nine, ten or eleven, while hitting when holding a twelve, thirteen, or fourteen through two or three cards. Naturally, a player will hit any other times they have cards valued at nine or lower.
With soft hands, a player wants to double down when they hold a soft twenty-one, twenty, or nineteen through three or four cards. In fact, when a pontoon player holds a soft hand through four cards, doubling down is the right course of action. Players holding a 19, 20, or 21 through two cards should stand, however. When holding any other soft hand in pontoon through two or three cards, hitting is the right action. When splitting pairs in pontoon, players should only split eights or aces, while playing through any other pairs.