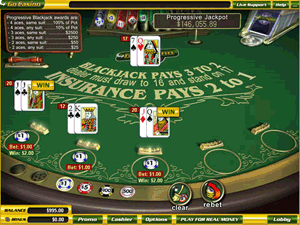 Progressive blackjack is a variation of blackjack played with a side bet and a side pot that continuously grows. The game of progressive blackjack is played with a six-deck shoe, and the actual main game follows the same guidelines that normal blackjack games follow. Each player receives two cards, while the dealer gets an up card and a down card. Each player competes heads up against the dealer, taking hits, standing, doubling down, and splitting cards as appropriate in an attempt to maximize their winnings against the dealer. As is the case in normal blackjack, the object is to come closer to twenty-one than the dealer does without busting. Additionally, the dealer must follow set rules for drawing cards or standing. The dealer must take a hit if his total card count is under seventeen, while standing when his card count is seventeen or above. Progressive blackjack players should play the game according to optimal strategy guidelines for a six-deck shoe.
During the normal blackjack play, a winning hand pays even money on the amount wagered. Insurance can be purchased when the dealer displays an ace and pays out two to one if the dealer has blackjack and insurance is purchased. However, as is the case with most blackjack games, a player should avoid buying insurance, as the insurance premium holds a negative expected value. In progressive blackjack, players who are dealt blackjack are paid out at a three to two rate.
In addition to the normal play, a progressive blackjack player may place a bonus bet, which gives the player a shot at the progressive jackpot. When doing so, the player must buy into the progressive for $1 before the cards are dealt. In the event the player is dealt a single ace, he receives $1 from the jackpot. If the player is dealt any two aces, $5 is paid on the bonus bet. Two aces of the same color (I.e. – spades and clubs) constitute a $10 payout. Should the player be dealt suited aces, he receives $50. If the progressive blackjack player gets any three aces, he wins $100, while three aces of the same color entitles the bonus bet to a 250 to 1 return. Should the player receive and four aces, he will be paid $1500 from the progressive jackpot. Players receiving three suited aces constitute a $2500 payday, while the entire progressive jackpot is triggered in the event the player is dealt four aces of the same color.