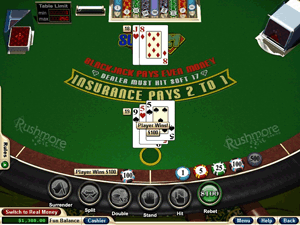 Super 21 is a variation of blackjack that follows most of the rules that a normal blackjack game follows. The play works exactly the same as regular blackjack games in that each player receives two cards and competes heads up against the Super 21 dealer. The dealer receives two cards, as one is facing up and the other is face down. While the game of Super 21 plays in a similar manner to normal casino blackjack, there are some slight differences in the game specific rules for Super 21.
In Super 21, the dealer stands when holding a hand valued at a hard seventeen or above. When the dealer has a soft seventeen or below, he must hit. In Super 21, players may split their paired hands. In fact, a player may split their hands up to four times. They may also split or re-split aces. In addition to splitting, players may also double down in Super 21. When a player is dealt blackjack in Super 21, it pays even money. However, if blackjack is dealt in diamonds, it pays two to one in Super 21.
Surrendering is allowed in Super 21, as Super 21 allows for late surrenders. The player can choose to surrender at any point in the hand when it is his turn. A player is wise to surrender in Super 21 if they are dealt a fifteen, sixteen or seventeen and the dealer shows an ace. Additionally, surrendering is suggested after being dealt a sixteen and the dealer shows a ten.
Unlike blackjack, Super 21 players can double down regardless of the number of cards they hold. For example, if a player is dealt a three and a two and they hit two times (each time they receive a three), they may double down on the four card eleven. When a player doubles down, they only get one additional card. In the event a player does not feel comfortable with the card count they have after doubling down, they may do a double down rescue, which is when the player forfeits half their bet. A player should double down when they have ten or eleven, even if the dealer shows an ace or a ten. Because the player can surrender, even after doubling down, it makes sense to double down at any time you are holding a card count of ten or eleven.
Another difference between blackjack and Super 21 is that Super 21 players automatically win the hand if they hold a hand valued at twenty or under after drawing six cards. Additionally, in the event the player draws to twenty-one in five or more cards, they automatically win. Moreover, a twenty-one that is obtained through using five or more cards automatically wins and pays out at a two to one rate.